Photo courtesy: @kanganaRanaut
The film makers are releasing the first song of 'Thalaivi' 'Chali Chali' on 2 April. Some glimpses of this are clearly visible in the teaser released today.
Mumbai.
Ever since the trailer of the film 'Thalaivi' has come, the audience's eagerness to watch this film has increased. A moment of the film based on the life of Amma, the audience wants to settle in their heart. To further increase this love of fans, the film maker is releasing the first song 'Chali Chali' of 'Thalaivi' on 2 April. Some glimpses of this are clearly visible in the teaser released today.
Recently, the Vote for Lively Initiative was announced on the social media of actress Kangana Ranaut Film Song and viewers were asked what they would like to see after the trailer. Most people said that they had seen a glimpse of the song in the trailer and told to show it completely. In the film, 'Chali Chali' song is filmed in a pool, for which Kangna spent 24 hours in the water for the shoot. A glimpse of this is clearly visible in the teaser of the song.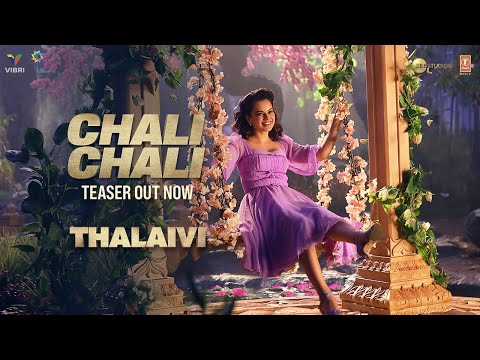 This song will remind of the late Jayalalithaa's first film 'Venira Adai' in 1965. Please tell that Jayalalithaa started her film career from a very young age. Oddly enough, Jayalalithaa was not allowed to watch her own film as the film was rated 'A'. However, the song 'Chali Chali' marks the golden era of Jayalalithaa's film career, so Kangana Jayalalithaa has left no stone unturned in herself. Kangana captured this beauty of the classical era.
The song has been shot in the studio format as it used to be in the earlier films. In the shooting of this song, which lasted for 3 days, every form of Jayalalithaa was captured. Music has been given to the film by GV Prakash Kumar and the song has been sung by singer Sanadhavi.
The film 'Thalaivi' is based on the life story of Jayalalithaa, a legend actress and then politician. Whose release is being eagerly awaited. Soon, Jayalalithaa will soon see this journey from the days of struggle in films to the highs of success and then to leave an invaluable mark by becoming the most influential politician in the country. The film will be released world wide on 23 April 2021 by Zee Studios in Tamil, Telugu and Hindi languages.
.