Ritesh Pandey's new Bhojpuri song is making a splash on YouTube.
Bhojpuri superstar Ritesh Pandey's new song 'Hajaron Ka Kya Hoga' has been released which is making a lot of noise. The song has garnered around one million views on the very first day itself. The song is sung by Priyanka Singh with Ritesh.
Video | Hazaron Ka Kya Hoga | Ritesh Pandey | Priyanka Singh | New Bhojpuri Song 2021 | Bhojpuri film superstar Ritesh Pandey's ruckus Bhojpuri song 'Hajaron Ka Kya Hoga' has been released. The teaser of this great video song was recently released on the official YouTube channel of Saregama Hum Bhojpuri, which got millions of views in a few hours. Now the full video of this song has been released.
Ritesh Pandey's superhit song 'Hazaron Ka Kya Hoga' is getting a great response. The song has got millions of views within a few hours of its release, on the very first day the song managed to garner close to a million views. Till the time of writing the news, the song is just a short distance from 10 lakh views. The speed at which the song is garnering views, it will surely garner more than a million views. Ritesh Pandey's look and his costume are very cute according to the theme of this song. Ritesh Pandey is looking no less than a big star in blue jeans and matching shoes, yellow color T-shirt and red jacket over it. Heroine is also looking beautiful and hot in the video.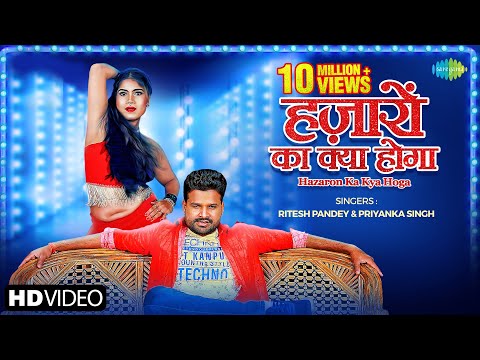 In this song of Ritesh, the magic of Bengali Bala Pramila Ghosh is that she is making millions crazy with her dance. It is very lovely to hear and watch the song. Actress Pramila Ghosh's amazing dance in a red dress is creating a ruckus. The chemistry of both is amazing. This song is shot very beautifully. The song 'Hazaron Ka Kya Hoga' is sung by Ritesh Pandey and Priyanka Singh while it is written by Rajneesh Choubey. The music is composed by Chhotu Rawat. The director is Sonu Verma. The choreographer is Sunny Sonkar. The vision is of Chotan Pandey.
.