Khesari Lal Yadav's new song is making a splash on YouTube. The song has got millions of views.
The famous song 'Love Wala Dose' from Khesari Lal Yadav's Bhojpuri film 'Baap Ji' has been released from Worldwide Records Bhojpuri. The song is getting very good response. The song has garnered millions of views within a few hours.
LOVE WALA DOSE | Khesari Lal Yadav | Ritu Singh | Alka Jha | BAAPJI | Bhojpuri Superhit Song 2021 | Whenever superstar Khesari Lal Yadav brings a song, the song gets millions of views within minutes. The same charisma has happened with his new song, which is getting millions of views as soon as it is released. Actually, the biggest ruckus song 'Love Wala Dose' from Bhojpuri film 'Baap Ji' starring Khesari Lal has been released from the official YouTube channel of Worldwide Records Bhojpuri (Bhojpuri).
The chemistry of Khesarilal Yadav and Ritu Singh in this Dhamaal video song is worth watching. As soon as the first look of this song was shared on social media. The fans of Khesari Lal went crazy and the audience was eagerly waiting for the song. Bhojpuri audience has taken it as soon as this song is released. Khesari Lal and Ritu Singh's amazing dance in this romantic song is being liked by the people. Ritu Singh is looking very beautiful and glamorous in beautiful saree and attractive blouse. The pairing of both is looking unmatched. The chemistry of Khesari and Ritu Singh in this song is captivating the audience. This song is sung by Khesari Lal Yadav and Alka Jha. Music composed by Om Jha, composed by Azad Singh.
The lyrics of the song are written very sweetly. In this, Khesari sings "Hamara jaisan mard na sojh milega, love wala dooz roze roz milaga." In this song, Ritu Singh is looking very hot and glamorous while Khesari Lal Yadav is making everyone crazy with his dance style. Khesari Lal's look is very good in this, while Ritu Singh's costume and his style are amazing. The special thing about this song is that there are some glimpses of the trailer of the film 'Baap Ji' at the end of the song, which is a surprise package for the audience.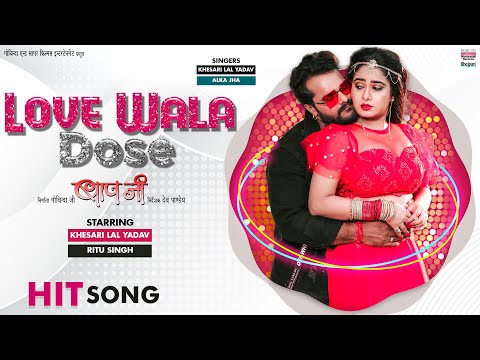 It is worth noting that the trailer of the film 'Bap Ji' was released from Worldwide Records Bhojpuri itself, which is being seen and liked a lot. In which the unique story of father-son relationship is seen. Manoj Tiger is playing the role of Khesarilal Yadav's father in the film. Their chemistry is full entertainment.
.