New Delhi. Virat Kohli has left the captaincy of the Test team Virat Kohli quits test captaincy after the defeat in the Test series at the hands of South Africa (India vs South Africa). He has given up the Test captaincy by saying on social media that he did his job honestly and now it is time to leave the captaincy. Kohli was made the captain of the Indian Test team in 2014, when Mahendra Singh Dhoni stepped down in the middle of the series against Australia. Kohli left the captaincy after India's poor performance in the T20 World Cup while the captaincy of the ODI team was snatched from him. Now after announcing Virat Kohli's decision to step down as Test captaincy, BCCI and Sourav Ganguly are being fiercely criticized on social media.
Virat Kohli tweeted a day after losing the series 1-2 to South Africa, "Everyone has to come to a point and stay and it is the same stage for me as Indian Test captain. There have been many ups and downs in this journey, but there has never been a lack of efforts or faith." In his long post leaving the captaincy, Virat Kohli specifically named only Ravi Shastri and Mahendra Singh Dhoni. Sourav Ganguly or Rahul Dravid's name was not anywhere in this post of Virat.
Mahendra Singh Dhoni's prediction came true after Virat Kohli left the captaincy
The rift between the former Indian captain and the BCCI was clearly visible since the statement made in the press conference before Virat Kohli left for South Africa tour. Now after leaving the captaincy of Test like this, fans are trolling BCCI and Sourav Ganguly fiercely on social media.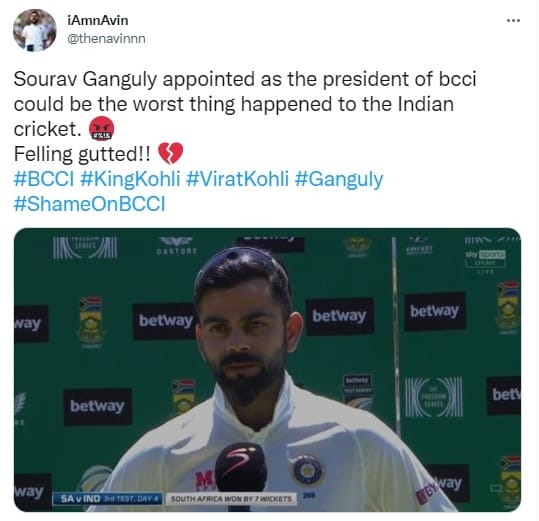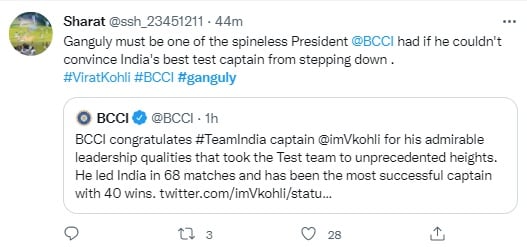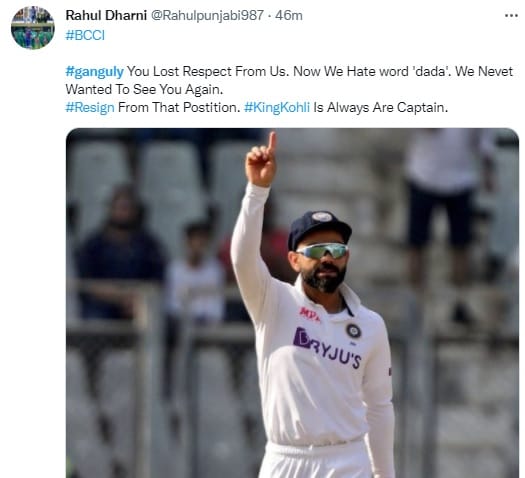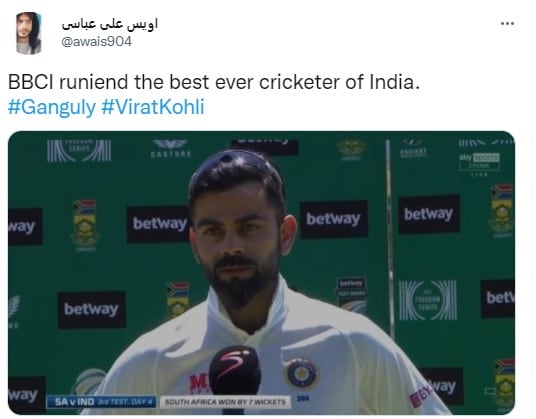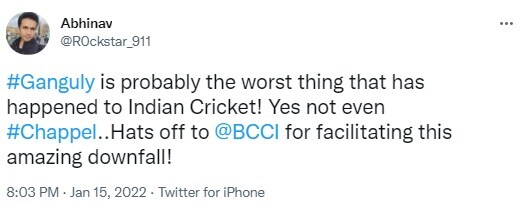 Let us tell you that after the failure of Virat Kohli in the ICC T20 World Cup 2021, he left the captaincy of T20 cricket. After this, the BCCI and Kohli had a conflict before the South African tour regarding the captaincy of the ODI overs. Before leaving for the tour, Kohli had refuted the statement of Board President Sourav Ganguly in the press conference, saying that he was not asked to reconsider his decision to step down as the captain of the T20 team.
Mahendra Singh Dhoni and Ravi Shastri's name written when Virat Kohli quits Test captaincy, know what he said
Along with this, he also said that after leaving the T20 captaincy, he did not talk to anyone. When the Test team was selected for the South Africa tour, he had a conversation with Chief Selector Chetan Sharma over the phone. After discussing the team, he said that you will no longer be the captain of the ODI team and I also said that it is fine. After this and before, there was no talk between us.
Be the first to read breaking news in Stuff Unknown | Today's latest news, live news updates, read most reliable Stuff Unknown |
Tags: BCCI, Cricket news, India vs South Africa, Sourav Ganguly, Team India, Virat Kohli
,