Shilpi Raj's new song is making a splash on YouTube.
Bhojpuri singer Himanshu Yadav and Shilpi Raj (Jawan Leke Aai Doli Uhe Khai Goli) has been released which is making a lot of headlines. The song is getting a good response from the people.
VIDEO | Shilpi Raj | Javan lekke i doli uhe khai pill | Jawan Leke Aai Doli Uhe Khai Goli | Himanshu Yadav | Bhojpuri Video Song 2021 | In Bhojpuri nowadays the songs of the album are also shot with the concept of a story. Especially in the songs released from Worldwide Records Bhojpuri, this specialty is seen that they have a theme. Recently, Himanshu Yadav and Shilpi Raj's theme based song is getting a lot of views by releasing. The name of the song is very unique and lovely, "Jawan leke ai doli uhe khai goli" (Jawan Leke Aai Doli Uhe Khai Goli).
In this song, the girl says that her marriage has been fixed somewhere else, then the lover says that the one who brings the doli will eat the bullet. Although the girl tries to convince the madman to come to my wedding, eat the puri bundiya and go away, but the boy threatens that whoever brings the doli first, will feast his death. And this is how this song goes on, you will find it very cute once you see it.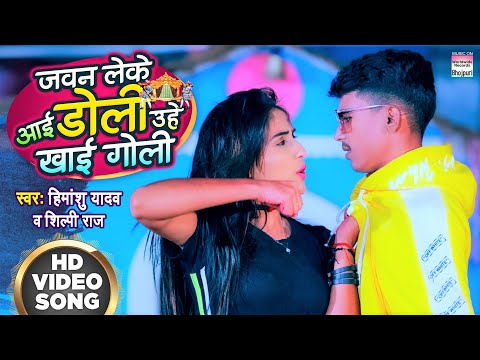 This song of Himanshu Yadav and Bhojpuri's famous folk singer Shilpi Raj is in discussion on the internet. Shilpi Raj is trending at number 2 in India's top artist rank on YouTube. This very cool song by Himanshu Yadav and singer Shilpi Raj has been released on the official YouTube channel of Bhojpuri Worldwide Records. Himanshu Yadav and Shilpi Raj have sung this folk song of Bhojpuri in their own special style. While the song is written by Rohit Pathak and music is given by Anil Yadav (Kalika Studio). The director is Surya Pandey. This song has the support of Umanath Yadav, Sushil Yadav. Presented by Worldwide Records, the special feature of this folk song is that it is a romantic nagma. The lyrics of this song are written very sweetly. The actress in black costume is looking amazing in this video and the chemistry of both is amazing.
.