CBSE Board 12th class exam has been canceled (Indicative photo)
CBSE 12th exam canceled 2021: In a meeting chaired by Prime Minister Narendra Modi, it was concluded that it would not be right to conduct 12th examination of CBSE during Corona period. After this it was decided to cancel these exams.
New Delhi. Due to the second wave of Coronavirus in the country CBSE's class 12th exams have been canceled (CBSE12th Class Exams Canceled). This decision was taken in a meeting held under the chairmanship of Prime Minister Narendra Modi regarding the examination. Apart from Union Information and Broadcasting Minister Prakash Javadekar and Union Defense Minister Rajnath Singh, the Secretary of School Education and Higher Education of the Ministry of Education attended this high-level meeting regarding the conduct of CBSE examinations amid the outbreak of the epidemic.
The chairman of CBSE also participated in the meeting. In this meeting, the Prime Minister was informed of all options for conducting the examination. However, after the meeting, it was concluded that it would not be right to conduct CBSE's 12th examination during the Corona period. After this it was decided to cancel these exams. Later, whenever the examination will be conducted, the parents of the children will be informed about it.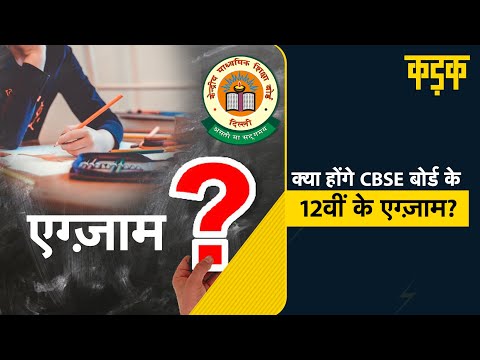 Arvind Kejriwal demanded to cancel the examDue to the outbreak of Corona virus, there was a constant demand to cancel the board exams. In this regard, Delhi Chief Minister Arvind Kejriwal also wrote a letter to the Prime Minister. At the same time, it was demanded that keeping in mind the concerns of the parents of the children, this year also should be assessed on the basis of performance like last year.
Welcoming the decision to cancel the examination, CM Kejriwal said, 'I am happy that the 12th examination has been cancelled. We were all very concerned about the health of the children. Big relief.
I am glad 12th exams have been canceled. All of us were very worried abt the health of our children. A big relief

— Arvind Kejriwal (@ArvindKejriwal) June 1, 2021
Along with this, about 300 students had written a letter to the Chief Justice of the Supreme Court and appealed to cancel them by taking suo motu cognizance of the conduct of the examination. The students said that conducting the exam in the midst of this epidemic was a risky life for not only the students but also their families, teachers and other staff.
Job Alert related to all state board exams / competitive examinations, their preparation and jobs / careers, follow for every news- https://hindi..com/news/career/
.