iPhone 12 Mini Price in India:
If you are also an Apple iPhone lover and are planning to buy the iPhone 12 Mini, then you can get this discounted and compact iPhone from the launch price up to Rs 9,500 cheap. The best deals are available on the iPhone 12 Mini on Amazon, due to which you are going to save a lot of money on this phone and this phone will fit in your budget. Apart from the discount, if you want, you can also exchange the old phone to buy the phone more cheaply.
iPhone 12 Mini Price in India

Last year, the 64 GB variant of this iPhone model was launched by the company with a price of Rs 69,900, but now after the bumper discount on Amazon, this phone is being sold for Rs 66,400 after a discount of Rs 3500.
read this also –These 4 powerful mobiles, including Poco F3 GT, coming to everyone's holiday next week, see what is special in them before launch
Apart from this, customers can also get an additional discount of Rs 6000 if they want, but you will get the benefit of this discount only on HDFC Bank credit card, credit card EMI or debit card EMI transaction.
Accordingly, overall you will save Rs 9,500 on this phone. After getting the benefit of the discount, iPhone 12 Mini 64GB launch price will be available from Rs 69,900 to Rs 9500 cheaper i.e. Rs 60,400, let us tell you that at this price you will get 64 GB variant of the phone.
At the same time, the iPhone 12 Mini 128GB variant was launched in India last year with a price of Rs 74,900, but right now this phone is being sold on Amazon for Rs 72,900 after a discount of Rs 2000.
Also read- Watch your favorite video on Youtube without internet, try this trick and enjoy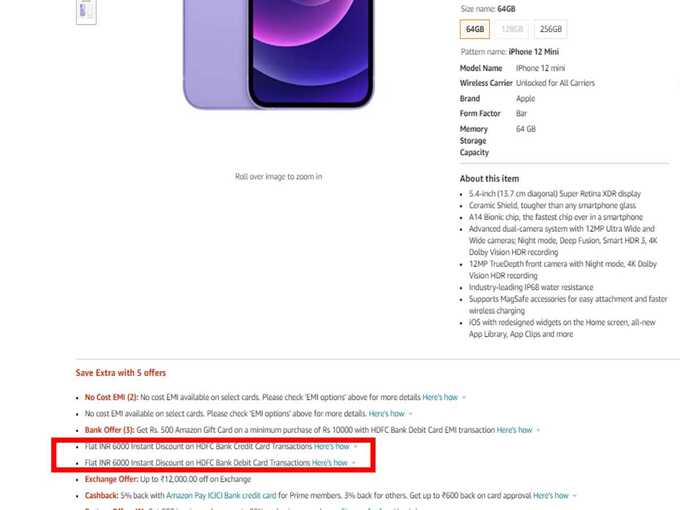 But you can save even more money on this phone, you can also take advantage of the discount of Rs 6000 with this model and accordingly you will get a total discount of Rs 8,000.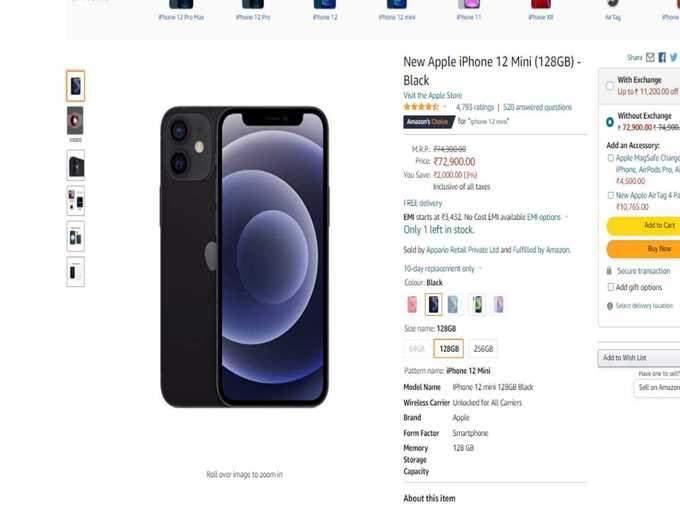 After a discount of Rs 9750, instead of the iPhone 12 Mini 128GB launch price of Rs 74,900, you will get it for Rs 66,900 on Amazon right now.
iPhone 12 Mini Specifications
Display: This iPhone 12 Mini with 5G support has a 5.4-inch Super Retina XDR display.
Processor and Storage: For speed and multitasking, the fastest chipset A14 Bionic has been used in this iPhone model. 64 GB, 128 GB and 256 GB storage options are available in the phone.
read this also-Take away the tension of losing data quickly! Quickly see 9 plans with unlimited daily data, best for you
Camera: There is a dual rear camera setup on the rear panel, 12 megapixel wide and ultra-wide angle camera sensor. 12-megapixel TrueDepth front camera with Night Mode is given for selfie and video calling.
Other Features: This Apple iPhone model has an IP68 rating for water resistance.

View Full Specifications
.