Song 'Ee Pyar Ha Ki Jadu Ho' from movie 'Majnua' released
Bhojpuri star Ritesh Pandey and Akshara Singh's film 'Majanua' is coming soon, whose trailer was released recently. Now its song 'E Pyar Ha Ki Jadu Ha' has made a splash on YouTube as soon as it arrives. The pair had earlier appeared in the film 'Raja Rajkumar'.
#Video I love is magic. #Ritesh Pandey #Akshra Singh | Bhojpuri Song | Bhojpuri Geet #Majanuaa. Expression queen Akshara Singh of Bhojpuri cinema world and famous actor and singer Ritesh Pandey are very much in popularity due to their trending songs. Also, both are excited about their upcoming film 'Majanua'. Recently, its trailer (Majanuaa Trailer) was being watched a lot on YouTube as soon as it was released. Now one of its songs 'E Pyar Ha Ki Jadu Ha' has been released, which is being liked a lot.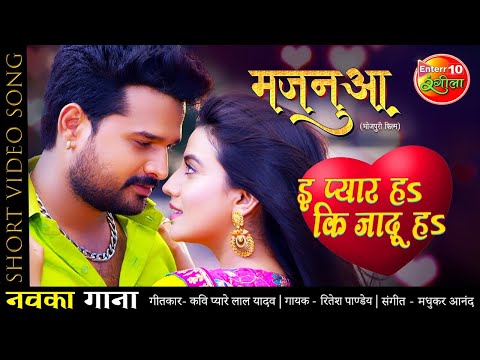 Producer Jagat Bihari and director Ashish Yadav have produced this film. Its music is composed by Madhukar Anand and written by Pyare Lal Yadav. The cinematography of the film has been done by Venket Mahesh. Editor Gurjant Singh, Fight Master Heera Yadav, Choreographer Ram Devan, Gyan Yadav. The film has been shot at several locations in Mumbai and Uttar Pradesh.
Apart from Ritesh Pandey, Akshara Singh, Sushil Singh, Dev Singh, Bipin Singh and Prakash are in the lead roles in the film. Ritesh Pandey and Akshara Singh are also very excited about the film 'Majnua'. The story of the film is said to be very engaging and entertaining. This is a clean, complete family Bhojpuri film, which will entertain the audience as well as give them a message. Let us tell you that earlier this romantic pair came in Bhojpuri film 'Raja Rajkumar', which was a huge hit.
.